Welcome to the VIP Shop! Support the CLG community by purchasing a VIP Membership subscription, a game package, or one-time donations. You'll be helping us cover monthly server costs and growing our community by reaching new goals. As a bonus for your contributions you get perks and rewards!
All donations go directly back into the community. Donations also keep our website ad-free. Funding goes to improve our hosted game servers with higher quality performance & hardware, as well as constantly expanding our game servers to other games. It's win-win!
Anyone can join & play with our community at no cost. Gamers who are able to contribute can do so through our shop where we offer VIP memberships, game boost packages and one-time donations in exchange for perks & rewards.
VIP memberships are a monthly recurring contribution to the community in exchange for various rewards and perks. See the VIP package for full details. You may renew or cancel your VIP membership at any time, but you will lose access to the rewards. Purchasing a VIP membership is one of the best ways to help the community!
Buy a game package for rewards & perks specific to one of our hosted game servers. Select which game you would like a rewards package for. Rewards can be claimed on one server (or server-cluster) only. Read the package info for complete details. After purchase, contact an Administrator on Discord to arrange for delivery if it is not automatic.
ARK: SURVIVAL EVOLVED - PvE Cluster
🌸 Discord Nitro Server Boost
Consider using a Server Boost on our Discord server with Discord Nitro. Your love and appreciation will be broadcasted to everyone within the channel, and you'll see a new ✨shiny✨ purple diamond by your name in the server! Rewards are handled automatically by Discord. Includes access to VIP-only chat for as long as your boost is active.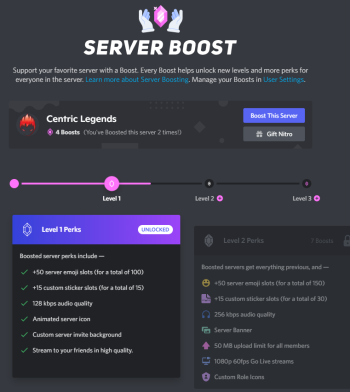 DISCORD NITRO BOOST
merch.centriclegends.com
Support the community by repping the brand IRL! High quality merchandise to swag yourself out.
To keep merchandise prices as low as possible CentricLegends only receives a 10% cut on merch items. Product is shipped & sold directly by the distributor.
PLEASE CAREFULLY READ THE SHOP TERMS AND OTHER POLICIES BEFORE PURCHASE!
We take our community very seriously and will do our very best to meet your satisfaction. Subscribers/VIPs may see their billing history and cancel subscriptions at any time using the self-service online shop. Please keep your receipts for proof of purchase.
All donations and payments made to Centric Legends Gaming are non-refundable. Rewards are subject to change/removal/addition at anytime by the discretion of administration team or by request of game developers to be compliant with their monetization policies. Donation rewards are non-transferable from one player to another. We have a zero-tolerance policy with charge-backs and/or fraudulent payments, which will result in your account being permanently banned.
Any purchase is in return for our time and services. We are not selling an item to you directly, we are selling your ability to posses VIP items & other bonuses on our servers as a means of supporting the community. VIP items and rewards are not owned by players but are allowed to be used on our servers as a service from us. VIP items and rewards are not allowed be re-sold or traded to other players. VIPs are not immune to the community guidelines and policies. Player bans and/or suspensions will render any purchase as forfeited and void. Purchased game packages & VIP items do NOT transfer or carry-over into new seasons or server wipes, unless otherwise stated.
Contact our Administrators for assistance with shop purchases.
CONTACT VIP SUPPORT